When the time comes to get siding in Arvada, CO, what type of siding will you choose. Whether you have your mind made up or you're not quite certain, you should definitely have vinyl siding on your list. Read on to learn about 5 of the benefits of getting vinyl siding for your residence.
1. Curb Appeal Goes Up
One of the main reasons to consider vinyl siding is that it will give your curb appeal a boost. Curb appeal refers to the attractiveness of the exterior of your home. Some homes have more of it than others. When your home gets new vinyl panels on your home, your entire property will get a huge improvement aesthetically.
2. Durable
Another benefit of vinyl siding is that it's tough and durable. This means that they're resistant to dents, rotting, warping, and splitting. You can also be confident that they'll hold up just fine to cold, heat, and wind. So if you want to invest in a product that will hold up well over the long haul, consider getting vinyl siding for your home.
3. Minimal Maintenance
If your existing siding is the sort that you need to sand down and paint every few years, then you're probably sick and tired of having to do so. The good news is that vinyl siding requires very little maintenance. You won't have to go through the sanding and painting routine to keep it looking great. You'll only need to rinse it off every now and again to wash off the dirt. If you really want to do a thorough job, use some soapy water to clean them before rinsing them off.
4. Warranty
The warranties on vinyl windows tend to be very strong. It's not uncommon to see limited lifetime coverage, in fact. So if you want to invest in a siding product that is designed to last a long time, you'll want to consider vinyl siding.
5. Good for the Environment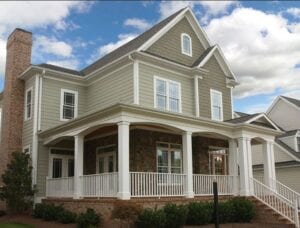 If you consider yourself to be a good steward of the environment, then you'll want to ensure the products you buy are environmentally friendly. Vinyl siding is considered environmentally friendly because it is recyclable.
Do you need to speak to an Arvada, CO siding retailer? Deal with the best! We're a premier provider of siding, windows, and doors, and we also offer professional installation services to homeowners in Denver, Arvada, Golden, Centennial, Highlands Ranch, Parker, Castlerock, Littleton, Aurora, Wheat Ridge, and Colorado Springs. You can count on us for quality products, affordable prices, and top service. Get in touch if you have any questions or if you want to set up a free in-home consultation. As part of our fall sale, we're offering 10% off on all purchases We also offer financing that includes no interest for 12 months. For the help you need, visit our office or give us a call to set up a free in-home estimate. You have nothing to lose and everything to gain, so get in touch to get the siding you need for your residence.