When to Decide for New Siding
A lot of people believe that the best time of the year for new siding installation is during the summer months. In reality, the experts say that the extreme temperatures of the summer negatively impact the quality of the siding project especially if you are installing vinyl siding.
However, summers are the perfect time to schedule the task for the upcoming fall season. You heard that right, the best time of the year to install new siding is Autumn, especially in Denver and Colorado.
The Problems of Installing New Siding During Summers
Siding is made from various materials and is temperamental in reaction to heat. For instance, vinyl siding can easily melt if it is exposed to high temperatures of the summer. Even if it does not end up melting completely, the heat can expand and stretch it a lot.
This change in the product can lead to several issues like interference with window casings and door frames. In more severe cases, the siding can become exposed to consistently high temperatures.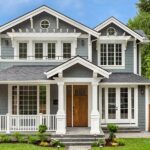 Problems of Installing Siding During Winters
Winter months are also not good for installing siding for your home. Intense cold can contract or shrink sidings and if there are freezing conditions, the siding can become brittle so much that the plastic such as in vinyl siding can begin to crack.
Problems of Installing Siding During Spring
Although spring is not as hot as summers are, they still have high moisture quantity in the air. Moisture from the rain can cause the project to stop indefinitely because there is a risk of mold growth on the walls and sidings.
The Best Time for New Siding Installation
It is really hard to complete a siding installation during Summers, Winters, and Springs, which leaves Autumn as the only season when you can comfortably get the project completed without problems.
However, regardless of weather conditions, hiring a professional siding contractor should top your list of priorities. An experienced siding company can minimize the chances of damage to siding no matter what season you choose to install them.
If you want to install siding immediately, we do recommend using reliable materials such as the James Hardie Fiber Cement sidings. These sidings are highly durable and beautiful, they are able to withstand extreme cold and hot weather plus they are environmentally-friendly too.
Fiber cement siding is non-combustible which means it will never melt. It is also rot and fire resistant and as well as highly durable in any type of weather condition. It also feels and looks a lot like real woodgrain which adds beauty to your home.
The insulating properties of the siding are fire-resistant than most other options available today. As a plus, you can also choose many colors, or pre-primed siding ready to be painted in the color of your choice.
Apart from that, there is a 30-year, non-prorated warranty that backs up claims of its durability. If you are ready to install James Hardie fiber cement siding, call United Windows & Siding today for the best price and quality work.