Thank You
We appreciate you getting in touch.
We will call or email you ASAP.
In the interim, if you want to speak with someone now
about your needs, please give us a call at 720-535-4767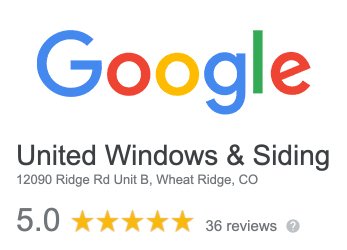 We understand that many customer seek multiple bids before selecting a company. Before you spend time and money with any contractor, we recommend researching the company.
United Windows & Siding fully invites you to research our company. We are a locally owned and insured company. We are in great standing with the Better Business Bureau, Yelp, Google and Angie's List, as well with all major supply houses.
---
Questions You Should Ask Before You Choose a Contractor
---
• What is the company's credit standing with the local supply houses?
If a contractor is in poor standing with supply houses, how will they get the material to do your job? Did you know that you might be liable for the material bill, if your contractor doesn't pay his bills? Even if you have already paid the company in full, the supply house may look to you if they do not receive payment.
• Is the company using sub-contractors?
If a company is using sub-contractors, it may affect the quality of workmanship. Some companies will hire just anybody to complete the repairs. By doing this they may be jeopardizing your most valuable investment.