Do you know when it might be time to change your windows? Windows are designed to last a long time, sometimes decades, but they won't last forever. But you knew that, of course. Even so, it's important to know the signs indicating that you may need replacement windows for your Arvada, CO home. Here's a look at how you can tell if your windows should be changed.
Energy Bills Sky High
Have you noticed a change in your monthly heating bill? Some people fail to understand the important role their windows play in insulating their home during the cold and hot periods. But if your windows are worn and torn, they may no longer keep air from seeping in. This will lead to higher utility bills since your furnace will, during the winter, have to work overtime.
When you get replacement windows, your home will be more energy efficient. And you'll save money because your furnace won't have to work nearly as hard to maintain a comfortable temperature in your home. When you visit a replacement window store, you can ask about double pane and triple pane windows, low-E coatings, gas fills, and more. Staff at the store will give you more details.
Opening and Closing Them is a Pain
You know you need to make a change if you have a hard time opening and closing your windows. In addition to reducing your home's energy efficiency, faulty windows are also a potential security risk. If you can't close them properly, that's a big problem. And it's an even bigger problem if you have faulty windows on the ground floor. Another way that faulty windows are a major concern is if you need to quickly evacuate your home in an emergency situation.
There are too many negative scenarios that come to mind when thinking about the problem with windows that are difficult to operate effectively. It may be possible to get them repaired. But sometimes you will have to get new windows – especially if parts are no longer available for your current windows. Again, staff at a replacement window store will be able to advise you.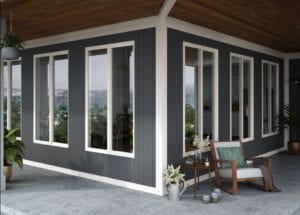 When you're ready to look into getting replacement windows, you'll want to find a dependable company that has experience helping homeowners in Arvada, CO with their replacement window needs. You can count on us for quality products, affordable prices, and top service. We also offer financing that includes no interest for 12 months – so it's never been more affordable to get the windows you need for your residence. The staff in our showroom will be happy to help you through the window buying process so that you get what you need. For the help you require, visit our showroom or give us a call to set up a free in-home estimate. We're here to help you with your replacement window needs. So don't hesitate to contact us whether to ask some questions or to set up a consultation. We're here to help.