Your front entryway is one of the biggest style statements your home can make. So whether you're building new or remodeling, you want to feel confident you've selected the perfect style for you. Get your Therma Tru Entry Doors now.
Therma Tru Entry Doors are designed products with such a wide variety of styles and configurations that you're sure to find several that you love. How to choose? We'll guide you through some of the style factors to consider in
designing your new door
.
The Fiberglass Difference
Fiberglass doors look like wood, but they don't warp or rot like wood, or dent or rust like steel. In fact, a fiberglass door needs only a fraction of the maintenance wood and steel doors do. And the inside of a Therma Tru entry door is filled with an exceptional heat- and cold-resistant material that helps keep your home warm in winter and cool in summer.
Engineered to Work Together
Therma Tru entry doors with genuine Therma-Tru parts is more than just a beautiful door. It's a complete door system made to perform as well as it looks. Unlike many door companies, we make or recommend every aspect – from the glass to the hinges – to ensure durability and reliability through the years.
Go ahead and slam the door if you want. We did – over and over – to make sure our doors, glass and parts live up to your toughest expectations. We expose them to extreme weather conditions. We roll heavy objects over our sills. We immerse parts with metal finishes in corrosive salt atmospheres. And we expose them to
ultraviolet (UV) light
to make sure our weathersealing parts and metal finishes can resist deteriorating and color fading in the sun. That's how we know that a Therma Tru entry door is designed to stand up to almost anything life throws at it.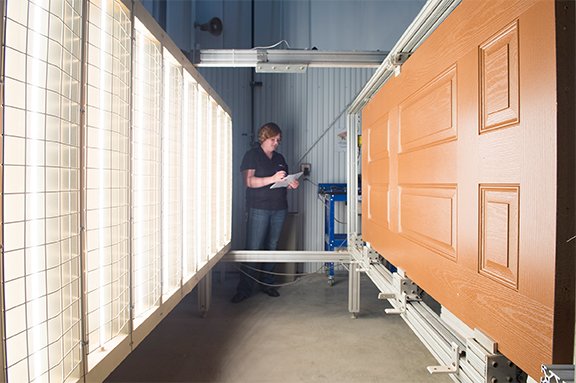 When you pay close attention to every detail that goes into a door, you can stand behind its parts for longer than the rest. That's why we back our Therma-Tru fiberglass door system with a lifetime limited warranty, the industry's most comprehensive warranty of its kind.