How's your siding looking? Siding can definitely add to the character of your home – but it can also be an eyesore if you miss the signs that it ought to be replaced. It's a good idea to pressure wash your siding at least once a year, and fixing damage sooner rather than later will extend the life of your siding. Even so, sometimes what's really needed is an outright replacement. Read on to see 3 signs that new siding from a Denver, CO retailer may very well be in order.
1. Energy Bills Going Through the Roof
Have you noticed your heating or cooling bills going up — way up — for reasons you can't explain? There are many possible causes for this. If it's not electricity-drinking appliances, faulty windows, or inadequate insulation, might it be the siding? If your siding is the worse for wear, that could be the reason you're paying too much each month for your utilities. The problem, unfortunately, will get worse as we head towards winter when the temperatures will plummet to eye-watering lows in Colorado. So if you think your siding might be on its last proverbial legs, get a siding retailer to give you an expert opinion.
2. Siding Needs to be Painted Too Often
You shouldn't have to paint your siding more than once every eight to 10 years or so. If you find that your siding is in desperate need of a paint job after five years or so, then there might be something wrong with your siding. Give your siding a close once-over. Is it cracking, loose, warped, or damaged in any way? It might just be time to get new siding for your home. You'll be able to kiss your old maintenance-intensive siding goodbye for good!
3. Mildew, Fungus, Mold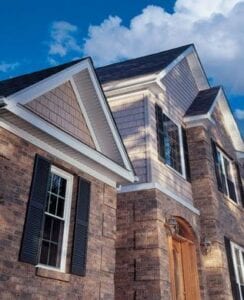 Is your current siding infested with mildew, fungus, or mold? That's a telltale sign that something's wrong. If you see any such growth, you can be certain that water is getting past the siding and reaching the wall. Left untreated, this can lead to problems down the road. So if you find such growth, consult a siding specialist to find out what you can do to remedy the situation.
Do you need to speak to a Denver, CO siding specialist? We're a premier provider of siding, windows, and doors, and we also offer professional installation services to homeowners in Denver, Arvada, Golden, Centennial, Highlands Ranch, Parker, Castlerock, Littleton, Aurora, Wheat Ridge, and Colorado Springs. You can count on us for quality products, affordable prices, and top service. As part of our fall sale, we're offering 10% off on all purchases. You can give us a call if you have any questions about your home's siding needs. You can count on us to answer your questions and give you an expert opinion. We also offer financing that includes no interest for 12 months. For the help you need, visit our showroom or give us a call to set up a free in-home estimate.